Monday 5 February I attended #SMEX18 – Social Media Exchange 2018. As the newest Superhighways employee, I had heard a lot about how inspiring and motivating this annual charity digital skills event is.
Organised by Jude Habib, ex BBC reporter turned founder of sounddelivery – who support organisations to tell their stories with impact – it's a day of digital training, giving voluntary sector workers lots of new ideas to try out.
It was hard to pick what masterclasses to attend, as all looked enticing. Here are my key take-aways from what I attended.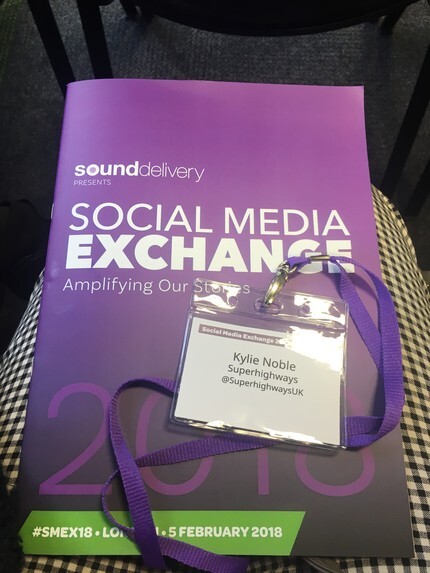 Vlogging with Impact, Emma Lawton, Parkinson's UK
Emma Lawton was diagnosed with Parkinsons at just 29. She now works for Parkinson's UK, with a background in graphic design.
Emma has used her personal experience to educate the public and to support others living with the condition. Taking up vlogging last year has been one method of doing so.
Why vlog?
Visual and shareable
Quicker than blogging
Easier for people with dexterity issues
Motives
Emma outlined that it's super important to take some time to plan your desired outcomes. Ask yourself, what you want to achieve and what would make it a success.
Next, consider how focused your topic will be and what audience it will be aimed at – everyone who engages with your core audience group or just a demographic within it?
Making a content calendar, with known national events and those tied into your cause alongside trying to keep to a regular pattern of how often and when you vlog, gives you structure. It also helps build up loyalty with supporters and donors to your charity.
Voice
A vlog needs to be branded like all other digital content. You need to decide if the vlog brand needs to match your overall brand, of if it can be a bit more off field. You also need to decide if the voice will belong to one person or multiple, or even a character within your organisation – Emma mentioned Parkinson UK's "Dave the worm."
Style is important to consider too – such as action (doing things), to camera, mixed, with or without music or voiceover. However, Emma advises that your message is more crucial than your style. It is the message that you want people to connect to.
Other tips
Consider interviewing other people working within your field or linked ones
Be sure to check the copyright of any material you use
Always shoot in landscape
Shoot more footage than you need
Be sure to back up your clips
---
Dipping your Toe into the Livestream, Peter Stewart
Peter Stewart, a BBC journalist and the author of the world's first book on live-streaming 'The Live-Streaming Hanbook: How to create live video for social media on your phone and desktop', took a jam-packed session on how charities can utilise live streaming.
Live-streaming is a feature of Facebook and Twitter. A positive of Facebook's version is that you can trial your live-stream by only broadcasting to yourself. On Facebook you can also select who can see your video.
Why live-stream?
Peter stated that people spend on average 3 times as much time watching Facebook live as pre-recorded, pre-produced video.
Also, Facebook has changed its algorithms to push live video over any other content on the news feed.
Other pros include:
You can build in a donate button to the stream
It shows your audience that you are confident and transparent
You can use live-stream as your own TV channel and respond to criticisms or issues raised by the government or other aspects of civil society
You could interview people with views or knowledge relevant to your audience- say if you work with people on benefits, a Q & A on Universal Credit
Can live-stream events such as Church services
After the stream, you can download it to your mobile and edit it and create further video content
Tips from Peter
10 to 15 minutes is an ideal time limit for a live stream
Live streaming will really eat into your power and data. Consider buying a mobile battery bank and using Wi-Fi over data in areas where this is possible
To avoid shaky videos, invest in a tripod of some kind. Peter often uses one he got in a pound shop so they don't have to be expensive!
Consider at all times the "4 C's"- consent, community management, care and courtesy
Overall, Peter said that live-stream presents so much possibility for charities but that few are doing it well at present. He cited Oxfam as a great example.
---
Making a big impact as a small charity, Jem Stein, The Bike Project
This was a 30 minute discussion session that took place over lunch.
Jem started small charity, The Bike Project in university, when he was mentoring a refugee in a volunteer role.
In the UK, refugees can't work and receive only £37.75 per a person in benefits per a week. To negate transport costs, Jim helped the refugee acquire a bike. The Bike Project now helps refugees across London to get bikes.
He cited an issue we find a lot of the charities we support in Superhighways encountering – not having the funds to have a staff member dedicated to comms. Jem was The Bike Project's only employee for about 9 months and the only person doing communications for a year and a half.
He believes that small charities hinder themselves, often beginning with a negative mindset – focusing on how little resources they have. But Jem argued that small is beautiful, and that people tend to trust small charities more.
With more on the ground, face-to-face contact with clients, there is a perception that within small charities money goes to the people who need it the most, more directly.
He stressed, that there's a real space to be positive.
In term of practical tips, he promoted Google Adgrants as a really useful – if not especially easy – tool to harness. Google Adgrants give charities access to 120,000 dollars of advertising per year.
He recommended our friends at Platypus Digital as who to go to for assistance in getting the most out of Adgrants, and Tech Trust for wider guidance on marketing.
Other suggestions from Jem and across the floor:
Encouraging user-generated content
On Twitter #JournoRequest is great for press coverage
The Guardian's Voluntary Sector Network was also recommended
CRM's such as Salesfore for building donor relations
---
The power of audio, Jude Habib, sounddelivery and freelance journalist Milly Chowles
This session was led by event host Jude Habib. We listened to great examples of how charities have used audio to great effect.
The first was a ThamesReach vox pox asking homeless people what it felt like to be homeless at Christmas. The twist, was that the interviewer had himself been homeless in the past. Jude is a strong advocate of training up those most affected by the issues you work on, to speak about them.
In the recording you could hear the hustle and bustle of London in the background. Similarly, in another audio piece narrated by a child from a low income family who via charity was able to go on his first holiday to Butlin's, you could hear the sea and chat of family in the background.
Background noise need not always be edited out – it can add authenticity. As Jude said, "audio should paint pictures in your head."
Other tips from the session:
Audio is a way of getting past nerves about public speaking and around identification issues for vulnerable clients
Audio gets rid of one layer of judgement. Without being able to see someone, we can often emphasise more naturally
Try to practice active listening instead of sticking to scripted questions. Jude said when she started out as a journalist she was nervous and would stick to pre-planned questions but to allow your interviewee to guide you, allows for a more natural and interesting conversation
In conclusion, it was a really excellent day. The 7 minute lightening talks were especially moving and the key note speech from Dr Sue Black, who led the campaign to save Bletchley Park – and went from benefits to being knighted – was really inspiring.
We're looking forward to SMEX19 but if you can't wait until then it's worth saving the date for our very own Impact Aloud 18 on 19th November. It will be an awesome day of digital skills learning for grassroots local charities and community organisations.
If you'd like guidance on how to do more with digital, check out our current courses or get in touch with us at impactaloud@superhighways.org.uk