Datawise London encourages organisations to explore their hunches about why some activities work well and why others may need to change so that they can better meet changing needs of Londoners.
Superhighways leads a partnership that is dedicated to unlocking the value of community data.
This includes data skills development, resources, new and improved data tools and more to support systemic change in data use by small charities and community groups and the support that is available to them via funders and infrastrucure organisations.
Data skills development
We have produced a range of training courses, resources and data talks in the first three years of our data literacy and skills partnership.
Our Excel bite-sized series can be accessed for free online. It has a range of datasets based on a fictitious charity, so that you can play along before looking at your own data.
We have continued our training and advice package through our Realities of Poverty, Trust for London funded programme. This helps grassroots organisations to use data to raise the voices of the people they work with to influence change.
Current systems change priorities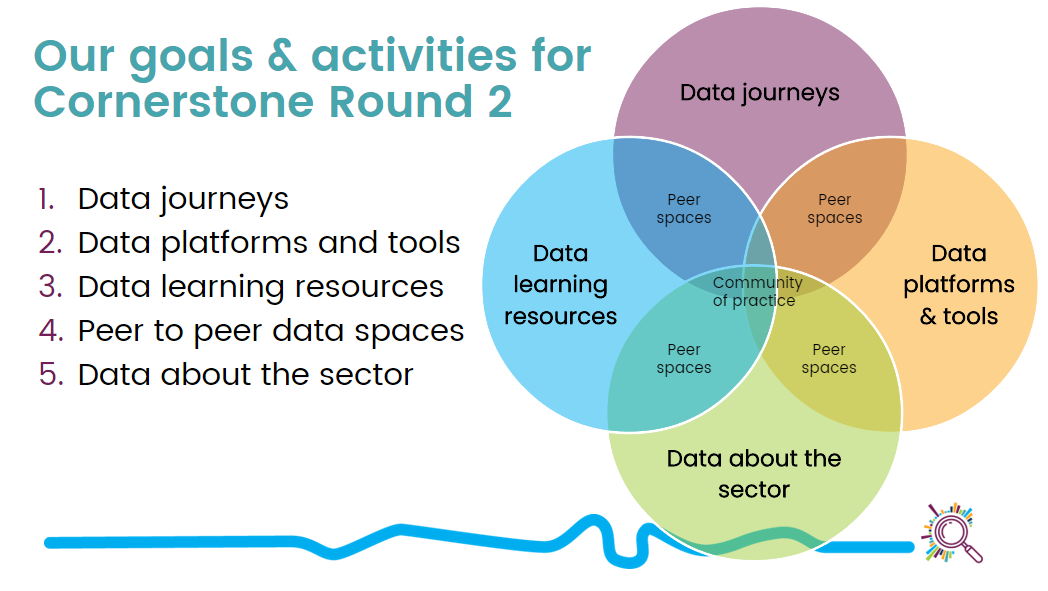 Datawise London is focused keenly on systemic change for 2022 to 2025 as part of our Cornerstone Round 2 funded work.
We have identified five areas where we can influence interconnectedness, resources, practices, and relationships to enable community organisations and those that support and fund them to better use data to meet the needs of Londoners.
1. Data journeys​
Small charities face barriers to developing their data maturity. Our data journeys research asks if there are common experiences, challenges, motivators and enablers that can support progress with data. We aim to share findings with infrastructure bodies, specialists support organisations and funders so that they can respond with appropriate opportunities and interventions.
Read our Small Charity Data Journeys research report, published in November 2023.
2. Data platforms and tools​
Tools for making best use of data, particularly analysis tools and external data sets, can be too complex or impenetrable for people who are not data specialists. Sometimes cost can also be prohibitive for small organisations.
We will consider a range of digital and data tools that are useful for smaller organisations and assess where there are gaps. We aim to increase access and affordability where possible. We will build community led and owned tools where needed.
We are investigating database systems that are suitable for small organisations and building on our 'Choosing a database for small charities' step-by-step guide with practical support.
3. Data learning resources​
Data is still a bit scary for many people working in smaller organisations. We know safe spaces and playful discovery can help overcome the fear of making mistakes or feeling that data isn't for me.
We aim to build on Datawise London's previous success in training to provide a test and learn environment. This will include further case study examples, fictitious data sets and practical, interactive, scenario based / simulation tools to help model good practice in data use.
4. Data about the sector​
Data about the sector in London isn't accessible in one place​. There are a multitude of siloed directories and databases, with sector organisations submitting data in multiple locations. A lack of data standards and external publication means it's difficult to collate data at a regional level. Open data sets rarely hold grassroots community information.
We will explore the potential for agreeing minimum data standards about community action in London, linking data sets at a regional level and how we can further understand the scope, scale and make up of civil society in London.
5. Peer to peer data spaces​
Our previous focus on skills-based practical training gave limited peer sharing or learning opportunities based around shared goals or different perspectives.
Our peer-to-peer data spaces will provide opportunities for frontline and infrastructure charities to learn from each other.
This new London Data Community of Practice will be a focal point to connect various data initiatives across different sectors and be a collective voice to influence new data practice in the sector.
See more at Datawise London
Visit Datawise London to find how-to-guides for external data sets or take part in our online Excel training.