Whether influencing a change in policy, shaping community services, changing public opinion or re-imagining your own mission and activities, real voices matter. And listening simply isn't enough.
On 27 November, Superhighways, in partnership with Kingston Voluntary Action, organised an event to help local charity and community organisations tell stories that can shift power dynamics, sway public opinion and influence policy decisions.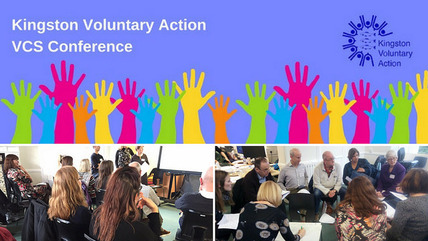 What's the local experience?
The audience heard from two local charities that have been working with their beneficiaries to shape local services – and the challenges they have encountered along the way.
Lisa Ehlers, Director of Kingston Centre for Independent Living showcased "Fighting for our Rights", a digital archive of how disabled people in Kingston have been advocating for their rights since the 1960s to the present day.
Listening to an audio recording, we were struck by the reality that for many the 'fight' is not over. The voices that have brought so many changes to how people with disabilities are both supported and perceived still need to be heard.
John Trend, Director of Oxygen, spoke on the importance of getting their young beneficiaries involved in decision making processes. Knife crime has seen a significant increase in the borough over the last 12 months, resulting in the death of one young local teenager.
Oxygen's success in relaying anti-knife crime messages has come from young people developing their own peer-to-peer learning programme in schools, now supported by local police. It's an intervention that takes significant time and resource, with trust in young people to find their own solutions.
Marcus, a 14 year old member of the Youth Parliament, spoke eloquently of his own experience of joining the Oxygen team and taking part in their leadership programme. Passionate about issues for young people, he reminded us of the significant cuts to youth clubs that he campaigned to prevent.
Masterclasses followed. You can download some of the resources from the session to help you in your own work:
Power Analysis for Campaigning Impact, Besty Dillner, The Social Change Agency
As community organisations we work with our beneficiaries' power to make the changes we want to see.
Download Power Analysis for Campaigning
Power to the people: get to grips with first-hand storytelling, Jude Habib, Sounddelivery
Learn more about the art of storytelling and how organisations can give a voice to the people they support, with real-life examples of charities that have used first hand storytelling successfully.
Download Digital Storytelling Tips
Communications for Change: Stories versus Facts, Tamsyn Hyatt, Equally Ours/Equality & Diversity Forum
Brexit. Trump. Alternative facts. As campaigners and communicators, we have a lot to learn from the events of the last two years.
Is there a better way to make decisions in our communities?
Finally we took a look at a consensus decision-making methodology that can help us all take decisions in a way that is constructive and collaborative, reflecting the values and knowledge of everyone and which build a greater sense of ownership of the final outcomes.
Watch the interactive session, owning the outcome-consensus decicion making, directed by Matthew Herbert of Talk Action.
Here's our top 3 tips from the conference:

"You need more than social media, you need a strategy"
Lisa Elhers, KCIL.

Social media shouldn't exist in a vacuum. If you want to enact change on an issue, direct engagement with citizens and/or bodies such as councils, is as important as raising awareness.

"Do our stories stop people in their tracks?"
Jude Habib, Sounddelivery.

Jude spoke about the need to try and greater encourage service users to tell their own stories and to consider new ways to tell stories. This can include blogging, phone video & audio, visualised quotes and infographics using free online tools Canva and Piktochart.

Jude also stressed to say no to vertical videos!

"To make long term social impact we need to shift power structures"
Betsy Dillner, The Social Change Agency.

If the voluntary sector wants to transform society, we need to take the longer view: how can we go from meeting immediate needs to less or none of those needs having to be met?

Betsy highlighted that first you need to map how your charity fits in relation to other actors with power, such as journalists, lobbying groups, campaign groups, unorganised social groups (such as parents or patients) and local and national government.
Then you can figure out how to better win people, or lessen their opposition, to your position.
So how did attendees feel at the end of the morning?
It's our scrolling mentimeter :) Pledges from this morning's user voice and participatory decision making sessions #kingstonvcs @KingstonVA pic.twitter.com/S64S3qZB3f

— Superhighways (@SuperhighwaysUK) November 27, 2017
What's the bigger picture for Kingston?
This was a fast-paced, interactive event that offers expert masterclasses and discussion to help you influence the change you want to see. It was funded by the Kingston Voluntary Sector Strategy refresh – a living document to help shape community response to local needs.
The morning was also part of a wider Kingston Voluntary Action conference to help shape a strong civil society in the Royal Borough of Kingston upon Thames.

Next steps
Masterclasses are taster sessions for practical training sessions to be delivered in early 2018.
Please email Superhighways if the above courses are of interest.
More from the blog