In June 2020, Superhighways received crisis response grant funding from the Natinal Lottery Community Fund's Reaching Communities programme, to support small charities and community groups in London with digital challenges they were experiencing during the pandemic, enabling them to better respond to beneficiary needs.

Training and support offers were developed according to the following strands of work, in response to issues that groups were raising during the initial months of Lockdown one.
Support for basic remote working infrastructure, to enable continued operations including advising on cloud computing options and best practice e.g. key cyber security considerations to minimise risks of remote working / using personal devices
Support for using other digital tools and platforms communicate & collaborate internally – key to support organisational effectiveness and staff wellbeing during this time and externally to enable continued and new partnership working
Support for digital communications so groups can highlight how to access ongoing / new services, and stay in touch with vulnerable beneficiaries via websites, social media, email and messaging apps. We've seen an increase in requests for setting up / improving websites
Support and training around using digital to pivot delivery or deliver services and activities online that were previously face to face – immediate critical offers alongside future offers to roll out in the next 2 – 3 months, ensuring best practice, privacy and safeguarding addressed
As a small team of seven, we worked together to create new training sessions and content, as well as customise existing training we previously ran face to face, so this would translate to online delivery too. All training was free to attendees and in bite-sized sessions ranging from a one hour walk through of Teams to a three-hour 'Taking your training online' session. Ask an Expert 1:1 advice sessions were a new offer, which staff and volunteers from small local charities and communtiy groups could book on, and covered a wide range of digital challenges.
Training sessions
All of the following were new online sessions as previously we only ran in person training:
Office 365 basics – an introduction to email and file storage (newly developed session)
Office 365 – an amazing toolbox of apps
Microsoft Teams – a walk through for small charities (newly developed session)
Productivity tools for small charities (newly developed session)
Cyber security for small charities
Setting up a website using Voice
Beginners guide to Canva
DIY video production (delivered by our partner)
Beginners guide to Mailchimp
Take your training online - First steps (newly developed session)
Take your training online - Next steps (newly developed session)
Online collaboration tools for small charities (newly developed session)
Community Conversations – Digital Access for all Londoners consultation event
VCSS Camp – an unconference for infrastructure organisations. See our blog post for a round-up of the event and feedback from attendees
Impact Aloud – a conference exploring use of digital to capture & communicate impact. See our event page for information on the 12 masterclasses led by experts in their fields

Additionally we created 'Taking your meetings and activities online' and 'Reaching new audiences online' sessions in partnership with Enfield Voluntary Action, Community African Network (Hackney) and Kensington and Chelsea Social Council.
Other support and resources developed

During the period of the funding, we created the following new resources:
3 eNews reaching 1,300 contacts
Funding also helped our tech support service (which directly supports 48 small charities who sign up for an annual support package), respond to an increase in demand for support. 121 laptops were set up remotely for 26 organisations, subsidised 50% by the National Lottery Community Fund grant, and enabling these organisations to remotely work and continue or start to delivery services online. This included follow up support e.g. troubleshooting issues with cameras and microphones for video calls - see our step by step guides.
In addition to VCSS Camp (see our blog post) we convened a number of other spaces for frontline and infrastructure organisations to talk about digital. This included informal meetings of Volunteer Centre staff and CVS Development Workers – where they shared experiences and put forward ideas for continued future peer support and joint working. We will explore facilitating more of these gatherings going forwards in 2021.
We also brought together frontline organisations working to bridge the digital divide, to capture and feed in to the London Recovery Board's Mission 3 – Digital Access for All and supported the HEAR Network set up the new Digital Inclusion in London Network.
Delivery stats and benficiary organisational profiles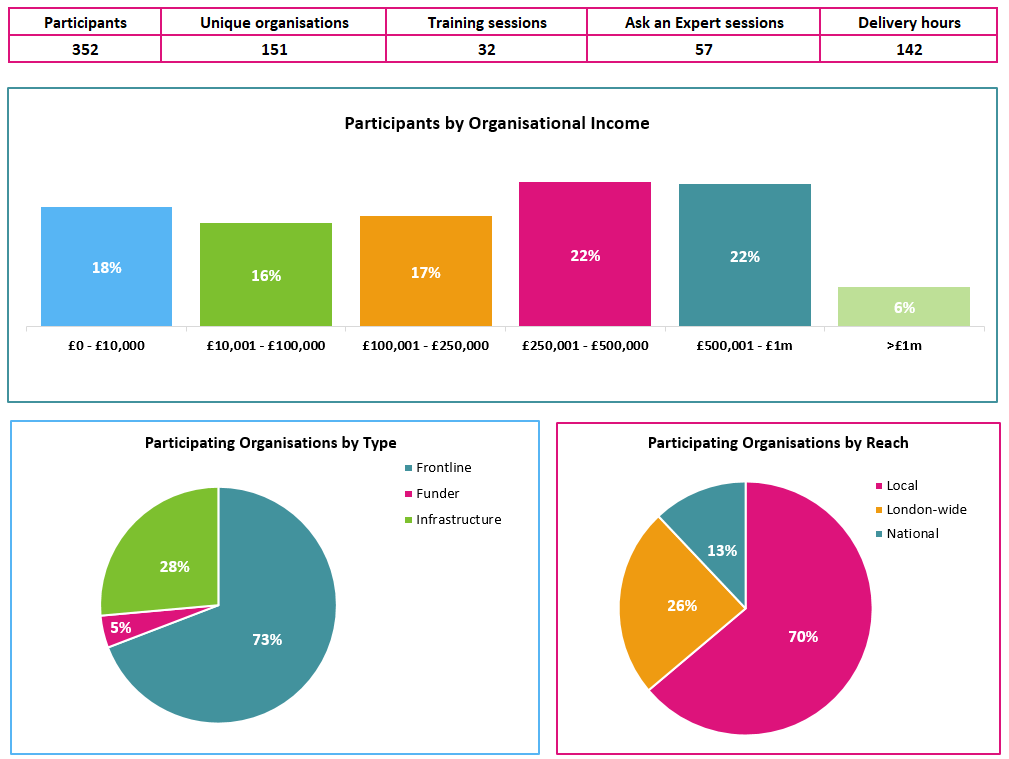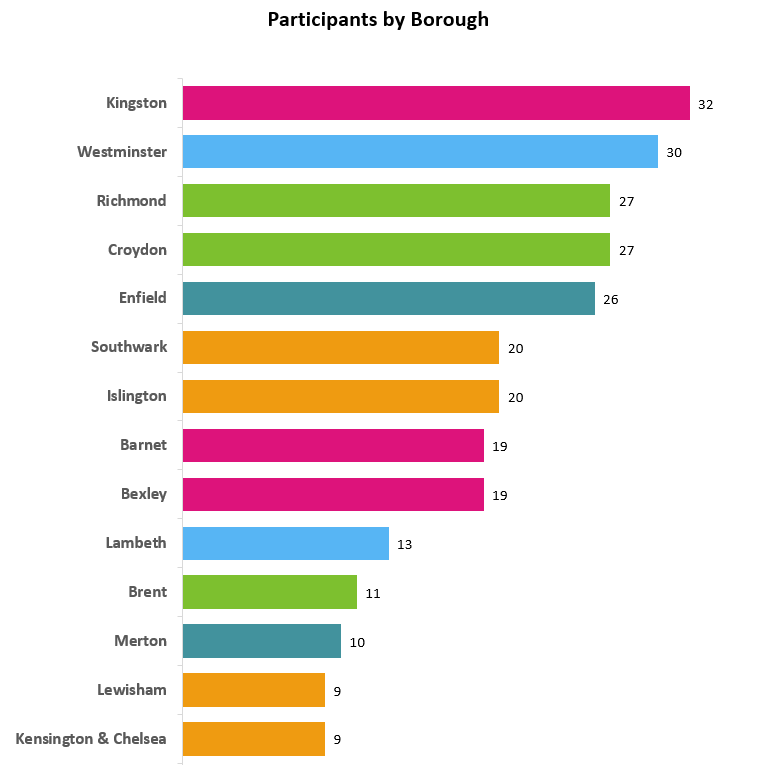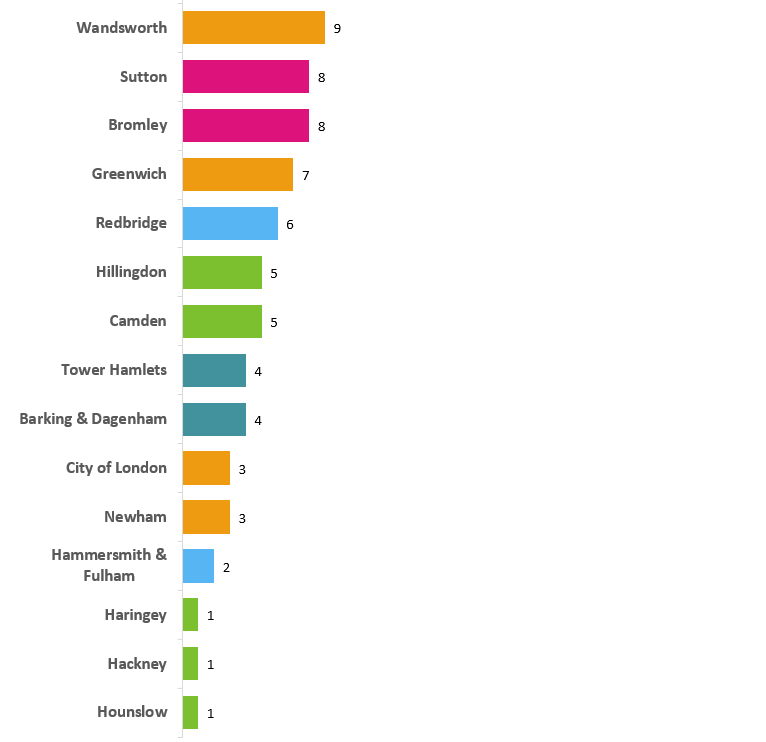 What was most useful about the training and support?
Some feedback from attendees:
"It was hugely helpful that the information was directly relevant to small charities, including using examples of charities they have worked with. I've read a lot about cyber security but been unsure about the relevance/impact/advice for small charities, so it was really helpful and reassuring that they made the whole webinar directly relevant to my organisation"
Cybersecurity for small charities attendee
Just knowing what's out there and trying out some of the tools live"
Online Collaboration Tools for small charities attendee
I was completely new to Mailchimp, so it was very helpful to have this straightforward introduction"
Mailchimp for Beginners attendee
It was exactly the topic I have been looking for, it provided the info I needed with practical examples of how it can be applied and was an opportunity to ask questions in a friendly and safe environment"
Take your Training Online: First steps attendee
Not being constrained by a workshop format, the length of time and being able to ask questions specific to my work"
Talking to someone with practical experience who has done it before. There is no wrong or right answer with IT"
Making IT changes feels very daunting when habitual use of other systems is challenged. It can slow things down and make them seem more complex so having expert advice available is really important"
Ask an Expert one-to-one session attendees
What were attendess going to do as a result?
Sending out my first newsletter very soon
Going to look at using RotaCloud for scheduling shifts and Trello for a specific project
Book more training in the future. Encourage other staff to consider this training opportunities to up-skill IT knowledge
Championing 'Ask an Expert' buddy sessions within our own organisation
Having not used it before, we now have M365 in operation
Starting to use Teams immediately
I am hosting an online volunteer recruitment fair and am going to use the whiteboard and polling tools in Zoom for it
Moving over from Square Space to the e-Voice platform!
I'm going to make sure all our accounts have two-step authorisation, so that they are more secure (and also to look at all our passwords and make sure they are strong)
Here's a sister blog post we've written for The Catalyst, drawing out key themes from a roundtable discussion and evaluation of the wider programme, and raising issues for funders, infrastrucutre organisations and frontline organisations to take on board as we navigate a new normal - with likely hybrid online and face-to-face delivery going forwards.