Guest blogger Ben Matthews, Director at Montfort, reveals how charities with smaller resources can make the most of digital marketing. The How to Ace the A's of Digital Marketing is a mini-series of three digestible blogs.
The world of Digital Marketing can seem overwhelming at first, with a wide range of areas to learn about - from Search Engine Optimisation to Conversion Rate Optimisation, Google Ads to Facebook Ads, YouTube videos to Facebook Live.
For small local charities, with smaller resources and often stretched time for staff, it can feel like an impossible task to keep on top of Digital Marketing and make the most of the opportunities that these digital tools offer.
The key is to focus on the essentials and use the main tools in a way that makes the most of your limited time and resources.
In our series, we'll look at the 3 main tools that small local charities should focus on - Google Analytics, Google Ads and Facebook Ads - as these tools are the simplest to get started with, will give you the most return for any time you do spend on them, and have plenty of helpful articles and guidance online to help beyond the tips outlined below.
If you want to improve your digital marketing, then acing the A's of Digital Marketing - Analytics, Adwords and Advertising - is the way to do it.
The third in our series is...
Advertising
The last A in this series is Advertising.
The previous sections looked at free tools, but for advertising online you'll need to set aside some budget in order to pay for the ads.
You don't have to spend much or adjust your marketing budget to make advertising effective for your organisation.
For example, if you spend £50 on printing flyers, you might actually reach more people and get them to respond to an online ad compared to a leaflet drop.
If you're just getting started, we recommend starting small and only adding more budget as you learn what works and is effective for your organisation.
1. Focus on Facebook
There are lots of different advertising options out there, from Twitter to LinkedIn, YouTube to Instagram.
If you're just getting started with advertising or don't have much time to run ads, then it's best to focus on Facebook, as this is the social media advertising platform that lets you reach the most amount of people for the lowest cost.
Facebook also has lots of tools and features that make it easy for you to create ads and show them to the right audiences.
This could be as simple as boosting posts directly from your Facebook page, or running more complicated campaigns through Facebook Ads Manager.
However you choose to run ads, focussing on Facebook only will get you great results.
2. Begin with boosting
The easiest way to get started with advertising on Facebook is by boosting posts.
The reason why boosting posts are important is that Facebook has said that organic reach (where you don't pay to show your posts to people, but reach them just through the newsfeed) for posts from organisations is decline. In other words, the number of people your posts can reach for free is falling.
With Facebook's "Boost" features, you'll be able to reach a much wider audience as you aren't limited to people who already subscribe to your page, but you'll have to pay a small amount to do this.
You'll likely have seen the "Boost Post" button appear on posts on your Facebook page. By clicking this button, you can quickly create an ad using that post and target it at your page fans and beyond.
Facebook gives you a guide on how many people you'll reach depending on how much you spend, but even £5 or £10 will help you reach a significant amount of people, so you don't have to spend much.
Once you click "Boost Post" your content will go live almost instantly. As soon as Facebook reviews it and gives it the go-ahead, it will start showing to your existing fans - and if you specify, people who might not be fans of your page yet but may be interested in your post.
Any type of post can be boosted—short messages, images, videos, links to a website, etc. And if you're just getting started, it may be best to test a key post, such as a donation ask or volunteering ask, to see how effective boosting a post is for your page.
3. Check out your competition
If you're not sure what type of ads to run or how to come up with effective ad creative, then it can help to see what ads other organisations are running.
Facebook just released a new transparency tool called Ads Library, which is intended to expose shady political ads but just so happens to let you see all of the ads that your competitors are running.
As an example, here's all the Facebook ads that Oxfam is currently running.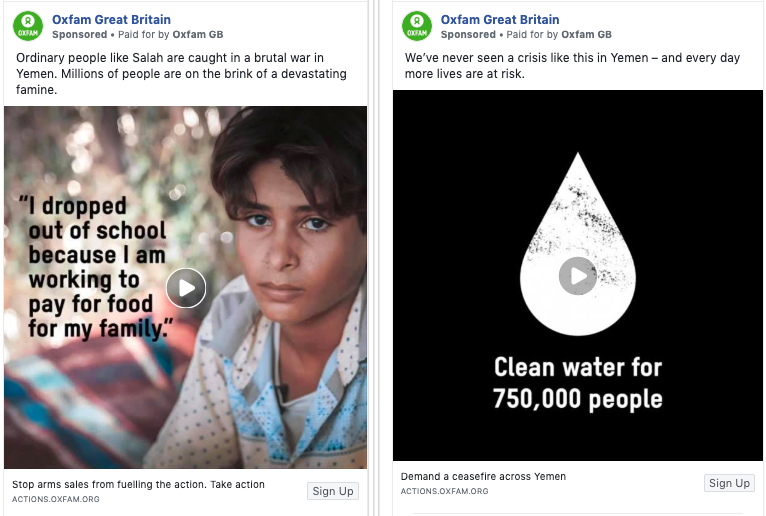 To find other causes in your sector that are running ads, simply visit Ads Library and start searching for relevant charities and causes to see if they are running any ads and take inspiration from their ad creatives.
4. Get audience insights
The more insights about your supporters you have, the better you're equipped to deliver meaningful advertising messages to those supporters.
That's the thinking behind Facebook Audience Insights, a tool designed to help you learn more about your supporters who are active on Facebook, including aggregate information about geography, demographics, purchase behavior and more.
Using Audience Insights, you can get aggregate and anonymous information such as:
Demographics — Age and gender, lifestyle, education, relationship status, job role and household size
Page likes — The top Pages people like in different categories, like children's charities or animals
Location and language — Where do people live, and what languages do they speak
Audience Insights is different from Page Insights because it looks at trends about your current or potential supporters across Facebook, whereas Page Insights looks at the interactions with your Page (such as likes, comments and shares).
If you're not sure who to reach or how big your target audience size is, take a look at Audience Insights.
5. Pick up the Facebook Pixel
The Facebook Pixel is a small piece of code that you add to your website, much like the Google Analytics code you may have added to your website.
But this small piece of code is extremely powerful and by adding it to your website, you can access some of Facebook's advanave added ced advertising features
By adding the Facebook Pixel to your website, you can understand the actions people take on your site, then use those insights to build custom audiences that help you optimise the delivery of your ads and understand the impact of your campaigns in more depth.
For example, you can use the Pixel to build a target audience of people who have visited your donation page or your volunteering page. You can show ads on Facebook just to those people, so if your ad is about donating to your charity or volunteering for your cause, you know that the ads will be more relevant to those people as they have already visited those pages on your website.
There's more information about how to add the Facebook Pixel and what you can to with the Facebook Pixel here.
There's so much more to learn with each of these areas of digital marketing, but hopefully these tips will give you plenty to go on and start to gain more confidence in how to use the tools.
Overall, we would recommend to start small with whatever digital marketing activity you choose to do. You don't have to spend a lot of time or money at first, but learn what works and once you're comfortable with the tools, you can build from there.
You might be interested to read our other two blogs in the series on getting started with Google Analytics and Adwords before starting with paid advertising.
About the Author
Ben Matthews (@benrmatthews) is Director at Montfort, a digital marketing for social good, whose clients include UNICEF, UN Refugee Agency, Amnesty International, The Wildlife Trusts and The Jo Cox Foundation. Montfort set digital marketing strategy and run digital marketing campaigns, including social media, paid ads and email marketing, for charities big and small.