Microsoft Office has a new version of its Photos app - the free photo viewer and editor - for Windows 10. It replaces the Windows Photo Gallery app and the great thing is, you can now create videos!
First thing to say is - this is so much easier to use than Windows Movie Maker.
Here's how you can access it on Photos - go to Create and then select either Video remix (automatic creation) or Video project (manual creation).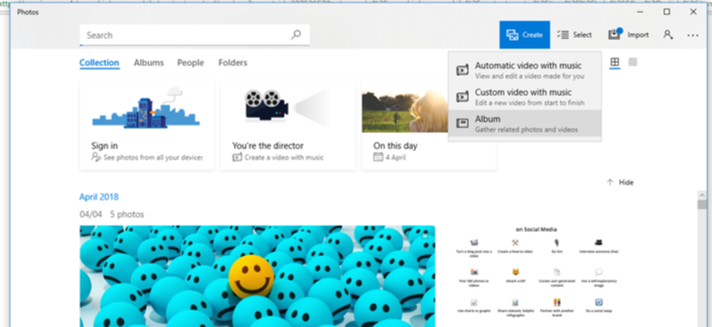 But as we know, when you need to create a digital story on behalf of your organisation to showcase your charity's achievement – the pressure is on.
We tested the software out on a video for Kingswood Community Shop to demonstrate just how effective their ESOL conversation classes are
at improving confidence to make new friends

enabling parents to talk to their children's teachers

empowering learners to walk up to the Post Office counter and discuss different ways to send a parcel oversees
Here are some key tips for creating your video, that we learnt on the day.
Adding Photos
Simply create a folder and drag in all the photos that you want in your video. A handy tip is, if you click the search icon when you start up the software – it will go off and find every photo you have downloaded on your hard drive and cloud drives like google drive as well as one drive. You then have a indexed library of images to work with.
Adding Music
Each slideshow Story is usually accompanied by music, supplied either by Microsoft or from a file in your Music folder. One great feature is that Photo transitions happen on the beat, making them more dramatic. Apparently in the background your music track adapts itself, looping to fill the time available.
Adding 3D effects
You can also have some fun adding 3D effects (where appropriate!) including snowflakes, sparklers and butterflies!
System requirements
Windows 10 – Fall Creators Update running version 17.05.
If you've got Windows 10, you don't need to do anything to get the newer app. It is included as part of the Windows 10 Fall Creators Update.
For ease of use, we would give it an 8 out of 10 star rating. It's a good free alternative to Animoto and timely replacement for Stupeflix.
Check out this PC Mag article for more information on Microsoft Photos and follow a step by step guide on the Windows Support pages - we'll keep you updated on any future developments.
If you are interested in creating online digital stories, get in touch to register your interest for our new summer course.