Lifting the lid on our Reboot Kingston project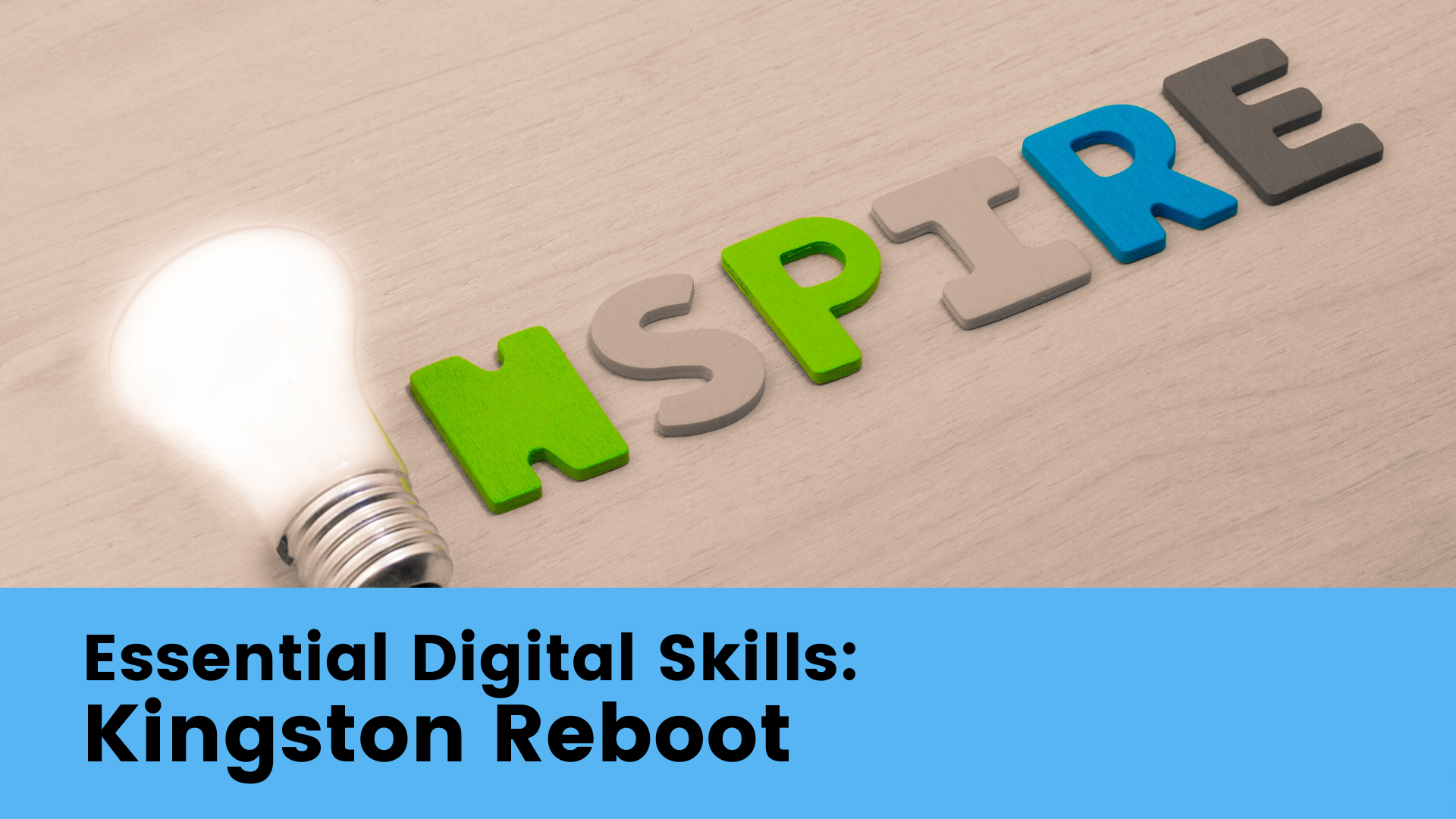 Superhighways successfully applied for a Good Things Foundation grant to work with Kingston Churches Action on Homelessness (KCAH) and support their clients gain basic digital skills.
This was part of Reboot UK - a digital skills programme for those with multiple disadvantage, focused specifically on people affected by homelessness and mental health problems. Funded by the National Lottery Community Fund, the project is run by a partner consortium of Good Things Foundation, Homeless Link and Mind.
In 9 months, we trained 21 people, providing one to one support based entirely on what our learners wanted to learn, to help them improve their lives and inspire a passion. From using Facebook to making contact with lost daughters, to sharing recipies with mothers and using mobile phone apps for graphic design.
Get your head in the cloud training did what it said on the poster.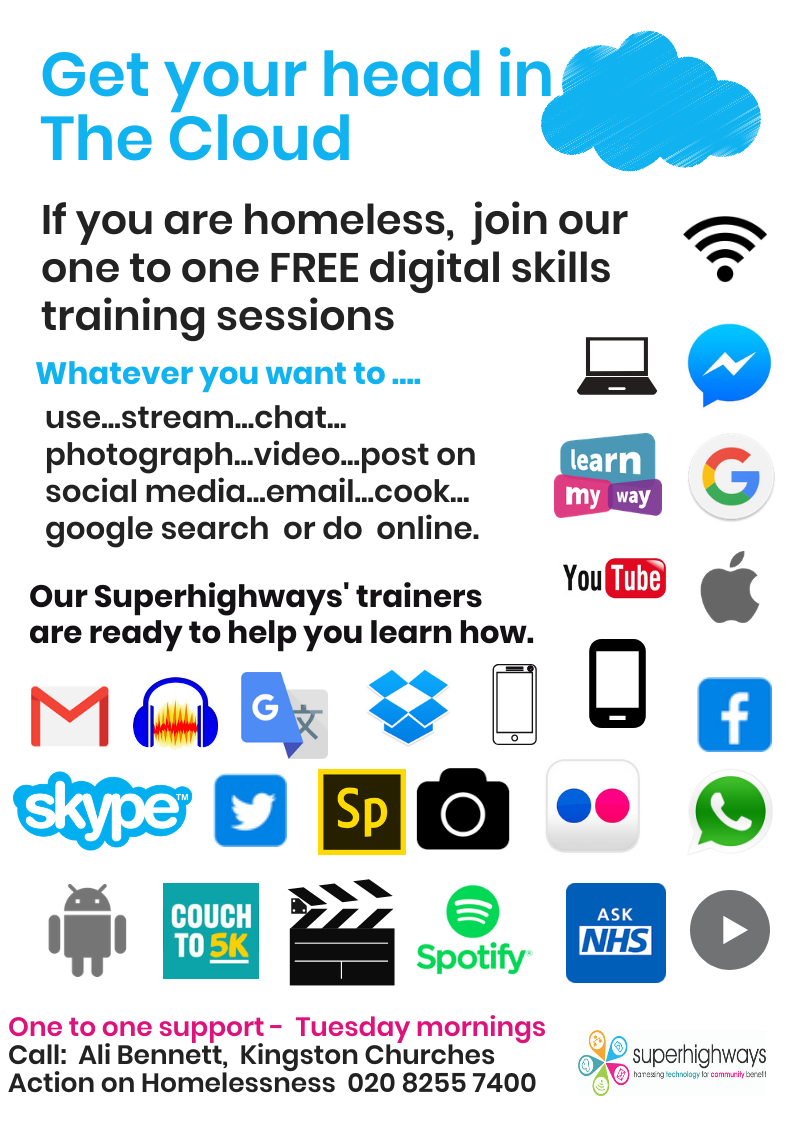 The key platforms we used were:
LearnMyWay
YouTube
Facebook
Whats App
Google
Gov.uk
Connected Kingston health and wellbeing portal
Universal Credit
Over the course of the programme we prevented a number of learners from being sanctioned for their Universal Credit because they were locked out out of their accounts.
We also assisted with job searches, reformatted CVs, provided training in how to use Excel and Word. We enabled advice on career changes by introducing the National Carers Service website to search for skills assessments, job hunting tips and training. Did you know on this site you can talk to a careers advisor on line, who will help you find the courses you need to study to change your career at a college nearby. All done and dusted in an hour? This site is currently a 5 star service as reviewed by its customers.
Here are three elements of the programme that made it such a success...
1) Recruiting peer mentors to help deliver meaningful sessions
We could not have delivered the training without the support of our peer mentors. Our trainer Philippa has 20 years experience teaching digital skills, but no experience of directly supporting people working their way out of homelessness.
Having someone on board, who can be coached into the role of mentor / trainer has been pivotal to the success of the project. A peer mentor moves the training out of the narrow remit of basic online skills into Information Communications Technology for life skills.
They can provide the context for situations that people find themselves in as a result of being homeless.
Then they can suggest the digital fix to get out of the situation based on their own experience and observation. And of course there's something in it for them, as one peer mentor highlights...
So someone who is perhaps uncomfortable with computers or uncomfortable with an area of online activity that is becoming more and more important these days, asks us "er how do I do this?" That's the catalyst for us to go – I don't know but I'll go find out. Come and join us on the journey. They leave with a bounce in their step and a smile on their face having been shown the basics and they now know What to do, or How to do it or Where to follow through on.

AND I got to admit…that gives me a buzz too
2) Working in partnership to reach and teach our target group
As Superhighways' digital inclusion work is based on working with voluntary and community agencies already known to us, we have built very good relationships with local charities over 20 years.
KCAH is one of the lead charities in the borough delivering services and support to homeless people and is also one of Superhighways tech support members.
All of our learners were referred directly through KCAH.
KCAH provided the Reboot Kingston project with
Usage of their ICT suite every Tuesday morning from 10 – 1pm for
Recruitment of all our learners
Free coffee / tea for everyone
And additionally unlimited support and enthusiasm for the work we were doing from the whole staff team. An extra special shout out to
Ali - Tenancy Sustainment Officer for chasing clients to attend including phoning them up to make sure they were on their way to the training
Derek - Access Project Manager for directly supporting some of the sessions
Matt – Operational Director for his overall support and total investment in the success of the project
You can read more about the impact KCAH has for local people who are homeless by following this link to the 2018 / 19 Annual Review.
The next step has been supporting KCAH apply for funding themselves to continue this work, linked to their Night Shelter. We've just heard they have been successful and so look forward to continuing our partnership in 2020.
3) Involving our learners in real, local and meaningful activities
Connected Kingston is a co-produced and co-designed portal to promote health and wellbeing by active signposting and direct referral to activities and services across the borough.
Searching the Connected Kingston website became a regular activity for all training sessions. This involved searching the site for activities for their own areas of interest and feeding back through the site itself, on how easy it was or not to find information.
We involved our learners in contributing feedback directly to the Connected Kingston development team during the second stage of development of the portal. The activity made everyone feel that they were helping to build something useful and we featured some of their stories of what they found interesting in the Connected Kingston monthly updates.
If you would like any more information about the Reboot Kingston project, or would like to discuss partnreship working on a similar digital inclusion programme, please contact philippaleary@superhighways.org.uk