When creating a digital presence, as a small charity, it's important to think how you can both raise awareness of your issues and secure funds.
On Tuesday 5 December, digital trainer Beth Kanter led a workshop on "the three C's" of using social media to fundraise, hosted by Lightful.
The room was filled with charity workers, who face many of the same issues that the small to medium sized charities we assist do.
Knowing your audience, maintaining engagement online and having time to carry out as much digital as you would like were all issues raised by attendees.
The workshop was packed with advice, inspiration and ideas. Here's our top 3 practical ideas to implement:
1) Transmedia storytelling
Beth talked about the need to ensure not only that we as charities are putting out content across various platforms-your website, Facebook, Twitter and other social media platforms depending on your audience, such as Instagram or Snapchat-but ensuring also that content varies across platforms.
You can put out the core message across several platforms, but alter how you present it. A blog on your site, a poll on Twitter asking followers their views on an aspect of the topic you are talking about and a photo album on Facebook, for example.
2) Define your audience
Who is following you, liking your content or sharing it? And who would you like to be doing so? Do the two already co-exist or is there work to be done, in retaining or increasing certain elements of your audience?
Beth suggested that charities take some time to create personas. These are fictional case studies of sorts- you do some research into your service users and/or supporters and draw up a summary of their lifestyle, interests etc. Here's some more advice from Beth.
3) Be aware of what and when you post
You should ideally be posting content in co-ordination with a calendar-having set times of the week and day. By looking at the analytics of who visits your site and posts and when, you can figure out better times, to achieve more hits and engagement.
A great line of advice from Beth was "don't just post to post." Quality over quantity is important. Too much posting can turn people away from engaging or following your content.
Here's a really useful resource from the event, to get you thinking more creatively about your organisation's social media.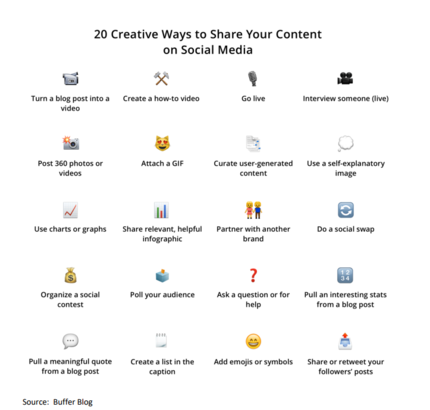 Need to create visuals to spice up your social media for 2018? Download our top digital tools suggestions or get in touch.