Did you know that on average we unlock our mobile phones 150 times a day? No, neither did we. What an opener to the start of a day of workshops in Croydon with Twitter, whose staff volunteered for a day to offer specialist insider knowledge to small charities, community groups and start-ups.
Twice a year across the entire company worldwide, Twitter offers a unique opportunity for its staff to volunteer time, part of its #FridayforGood initiative.
More than 60 small charities, community groups and small businesses attended 'Twitter comes to Croydon', with event partners Go ON Croydon, Croydon Voluntary Action and Superhighways on hand to answer questions alongside Twitter staff.
Here are five features Twitter suggest you should be using in your campaigns and storytelling:
1. Get your tweet noticed by 10 people…without using 140 characters
Trying to mention too many people using their @ Twitter name and running out of characters? Yes, we've all lost the will to live trying to create a coherent message at the same time as trying to copy in one too many people. Help is here with Twitter's new tagging feature for photos.
You can now tag up to 10 people (Twitter accounts) in a photo you tweet from your mobile phone. They'll get notified just like a Like or Retweet – bringing your amazing news right to them. We're waiting to hear back on whether this feature will soon be available for media scheduling tools, including Twitter's very own Tweetdeck. And desktop. Breathe…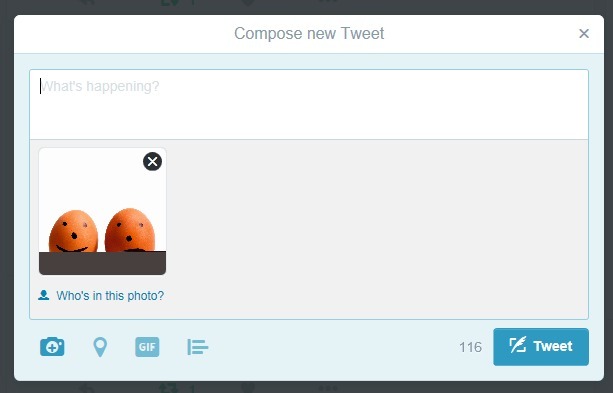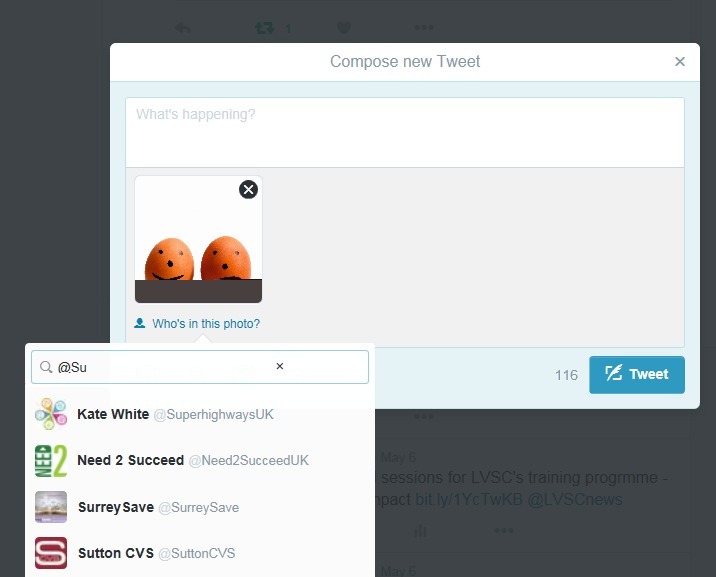 2. Make sure everyone's in the picture – adding alternative image descriptions
Why should anyone that's visually impaired miss out on your key information? They shouldn't – Twitter has finally launched its alternative image description editor so that you can add a description about your image.
You'll need to enable the feature in your settings and it's only available on your mobile app at the moment. Fingers crossed for the desktop version to be available soon. Find out more on the Twitter blog.
3. The best tweet you've ever created – pin it to your profile
You've read it and re-read it (and just shown it to someone sitting next to you), what a great tweet! Not only that but it's the single most important thing happening at your organisation right now. Even better, it looks like everyone else thinks so too because it's getting some engagement.
So pin it to your profile. Not such a new feature but worth a mention, this is a way of making sure your brilliant tweet stays at the top of your profile page so everyone sees it when they come to see who you are and what you're talking about.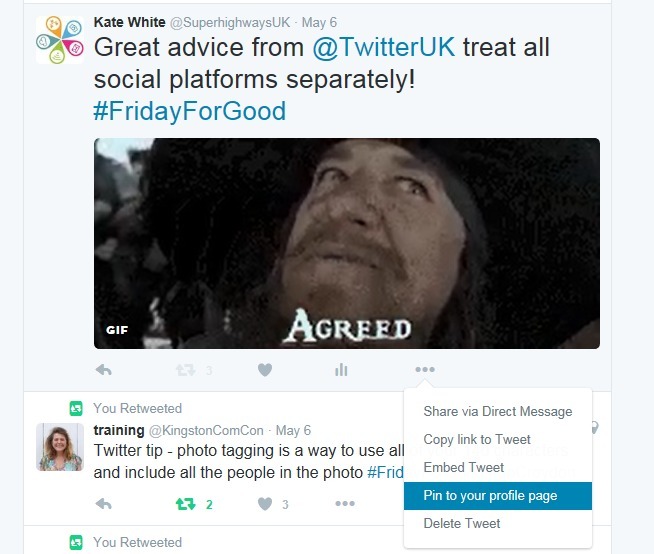 Just click on the 3 dots of your tweet and click 'Pin to your profile page'. You can un-pin it at any time and pin something new.
4. Broadcast your events – live and in full screen
Since its launch, more than 100 million video broadcasts have been created and shared live on Twitter using the Periscope app. What's new? Previously you had to tap on a link within a tweet to open the broadcast.
Now you don't have to – it autoplays within the tweet itself. Your followers can not only see what you're doing straight away – they can click on the play icon and open it up in full screen. This feature is not yet available for broadcasting from your Android device though it's coming soon.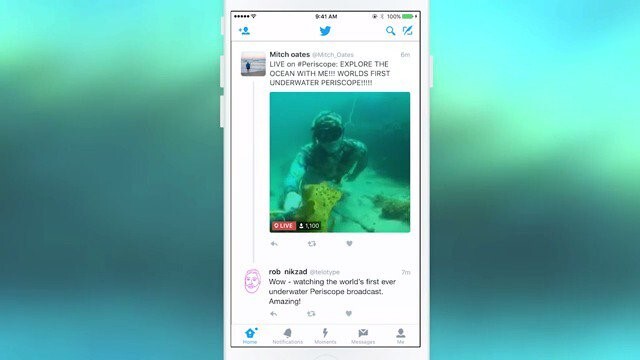 5. Demonstrate your impact - maps and infographics get you noticed
It's an old one but if Twitter says it's one of the best ways of increasing engagement with your small charity then it's worth a mention. That your tweets will get much higher levels of engagement if they are a photo or video is a simple fact and maps and infographics can be a great way of creating images to share.
Even better if they're telling your followers the story of your work and celebrating what you do best. Creating infographics is easier than you think and there are free digital infographic creators you can use that we regularly showcase in our e-news.
Superhighways runs low-cost training in how to create infographics through our Impact Aloud project, funded by City Bridge Trust. Keep an eye on our website for details or email Superhighways to express your interest in attending our next course.
Need some help?
If you want help to use Twitter to demonstrate your impact, Superhighways is running free digital surgeries in Croydon, Bromley, Kingston, Merton, Richmond and Sutton throughout the summer. Sessions are one and a half hours long.
Sign up for our free e-news and we'll let you know where and when they will take place.