Not another Code I hear you say?
But one well worth a look at, even if we do say so ourselves!
The Charity Digital Code of Practice, supported by Lloyds Bank Foundation and Co-op Foundation, was developed by a consortium of organisations including NCVO, Tech Trust, CAST and Small Charities Coalition to name but 4 of the 11 partners and chaired by Zoe Amar from Zoe Amar Digital.
So what's in it for you – a small charity or community group working in London?
As part of the consultation phase, Superhighways amongst others, provided feedback re a small charity perspective, and guidance has now been developed for each of the 7 principles with best practice relevant to small and large charities. Take a look and find out how for example you could be building digital into your strategic planning.
It's worth noting that future iterations of the Code are planned based on feedback from early adopters, and further supporting resources are being developed over time.
We invited Zoe to come and present "7 things you should know about the Charity Digital Code of Practice" at our recent Impact Aloud 2018 conference.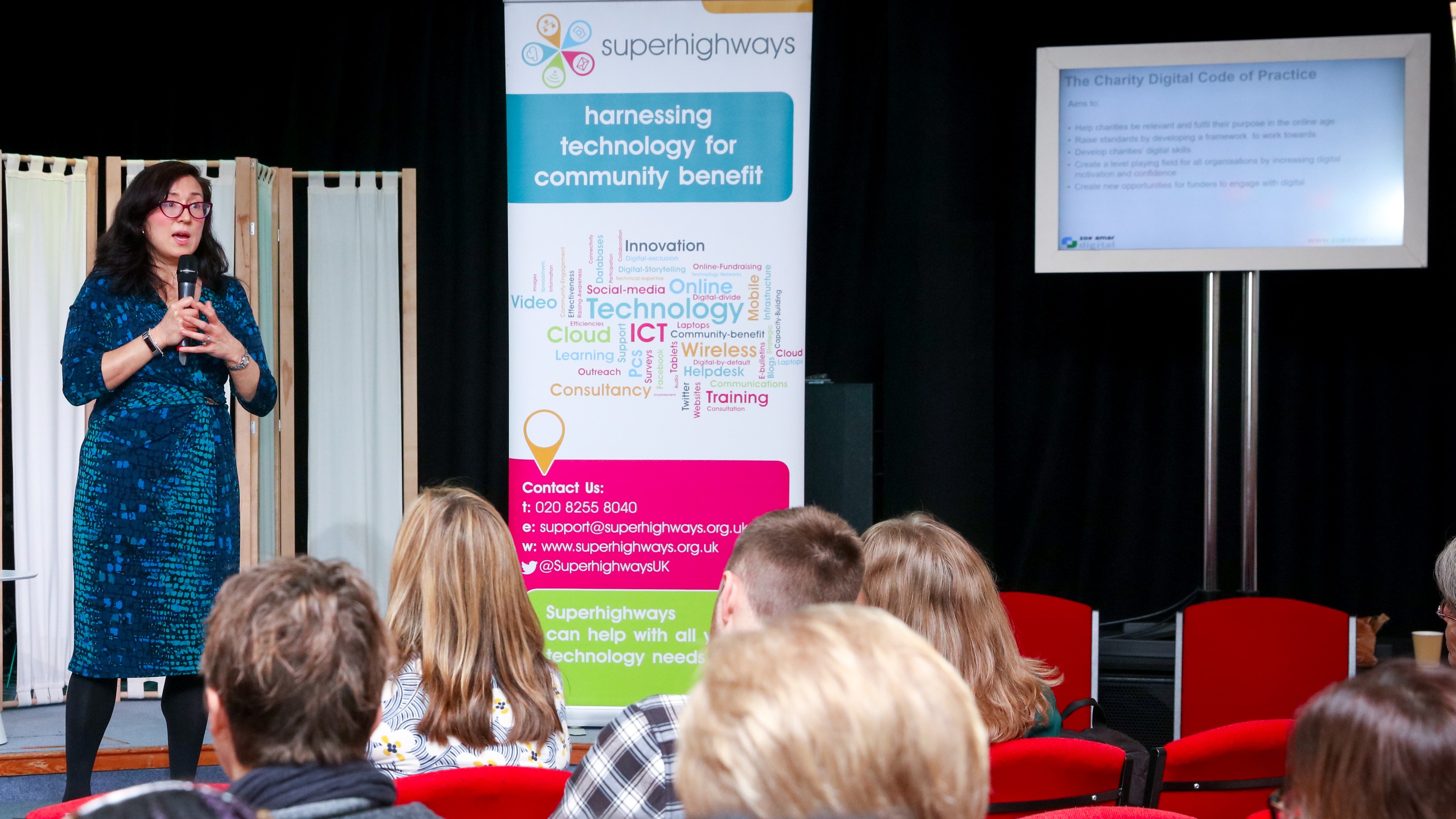 Feedback from organisations attending has been really positive and suggests that the Charity Digital Code of Practice will be a really useful framework to help small charities and community groups move forward with digital. We asked...
What was most useful about the session?
Finding out about the code and having an outline of the 7 key principles
Made me take a step back and think about our overall digital strategy rather than individual processes
It emphasised the need to adapt to survive in the competitive environment
I had no idea that there was such a thing and I am a Data Protection lead - it was extremely good to hear about it and I will digest and adopt things accordingly
It was useful to think about the questions posed – Are we using digital tools that will move us towards our mission / goals? What skills do our team have and how can we make the most of them?
What will you go away and do as a result?
Look for a board member with experience in the digital field
Ensure that Digital is on the next board agenda and that we have a trustee who has the necessary skills to drive process
The need to represent digital skills at all levels of the charities for which I am a trustee
Look at the security of our databases and password tools
Our charity clearly needs a Digital Strategy – so I'm on the case!
Here are Zoe's presentation slides for those that missed the event. You can also listen to her top tips for small charities adoption of the Code...
We plan to run digital leadership themed sessions in 2019 and are currently scoping a data literacy and digital skills support programme for London's small charity sector - so do get in touch if you'd like us to work with your organisation to help you make the most that digital & data have to offer.